Lange hat es gedauert, aber jetzt ist sie raus :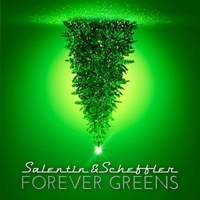 Only for Download Amazon-CD Baby-I Tunes – Spotify

Die Weihnachts CD des Tüftlers Scheffler in Cooperation mit HpSalentin : FOREVER GREENS
Das Duo veröffentlichte bereits einige Lounge & Wave Music CD,s und lud dazu immer deutsche und internationale Stars ein.
So auch diesmal.
,,Weihnachtslieder im eigenen Gewand ohne ins Säuselnde abzudriften…"    S-Press
For many years we have been doing unique arrangements of classic Christmas carols for our own personal fun.
Now that we have a full dozen of them at our disposal we decided to release the lot on a Christmas CD.
Musicians from all over the planet have contributed to it and the variety of styles is quite astonishing.
You will find super slomo jazz versions and Latin induced uptempo arrangements of all of your beloved Christmas tunes.
Sit down with a glass of eggnog and relax while listening to these smooth tunes.
Merry Christmas and peace on earth!    Salentin & Scheffler

Available only for Downloads   : Amazon – I Tunes -CD Baby  or Spotify